Excerpts from
Angela Molette
(Tuscaloosa Ohoyo) Black Warrior Woman
Juneteenth: Galveston Texas Indian Territory
Galveston Island was a Slavery Empire founded by French Pirate,
Jean Lafitte
. He was financed by two brothers, Jewish Traders Joa and Morin de la Porta. They were known as Karankawa Traders and Supercargoes for Lafitte, growing incredibly wealthy and descimating the Indian population, all called Karankawa and subsequently a great many were called "African" or "Black Slaves. Pirate Jean Lafitte was targeted eventually by the U.S. Navy and fled Galveston in 1821 with his "Mulatto wife and son."
Karankawa
were a collective, like the Coahuiltecan, of numerous Ethnic Native American Groups, called Karankawan, Clamcoehs, Coaques, the
Coco
, Copanes (Kopanes), Cujane (Kohanis); Guapitas; Carancaguansas (the source of the name Karankawa), Kronks and many other Nations. Their language was called Auia.
On June 19, 1865
-
General Granger
Announced the End of Slavery at Galveston, Texas (a date referred to as "Juneteenth"). Galveston was not just a random or haphazard place picked to announce the Emancipation of Slaves in Texas. It was a territory  harboring a Slave-Trading Empire, refusing to give up Slavery and broke away from Mexico because Slavery had been abolished and insisted Texans free all Slaves within 6 months of settlement. The secession produced the Republic of Texas.
Indigenous Karankawa
(large bands of many Ethnic Indian Nations) inhabited Galveston to Houston, Texas with affiliated Bands into Oklahoma and Kansas. The Galveston domain was known as Opata territory. The area included the terrain of Northern Mexico's border state of Sonora, which included New Mexico, Texas and Oklahoma, all essential parts of New Spain. It included the southern district of Coahuila y Tejas (aka Coahuila, Mexico). Texans refused to confederate with Mexico as long as it insisted upon allowing the Coahuiltecan State to exist as an Ethnic Indian State.
The aim of this pictorial is to demonstrate that the Karankawa Slave Trade had reduced Ethnic Native Americans to "African Slaves" for sale and that they too had been "freed" and/or received benefit from Juneteeth by its effect upon the Indian Nations to abolish Slavery by the subsequent 1866 Treaties and allowed Tribal Peoples from Texas and Oklahoma to rejoin in family groups.
Juneteenth: Galveston Texas Indian Country
On June 19, 1865-General Granger Announced the End of Slavery at Galveston, Texas. Our June 19th Holiday, Freedom Day, Emancipation Day, 2nd Independence Day was the most crucial event in Native American and African Hemispheric History, ushering in the conclusion of legal human Slavery in North America, a "peculiar" institution that shaped the dynamics of American Social Culture and Ethnic relations for all time. Slavery began in this country with Indigenous people captured by Europeans, and called "Indians. They also abducted and catastrophically destroyed natural African Civilization by transporting slaves across the Atlantic to America for use as laborers in their stead, for life.
Indians, Africans and Moorish-Indian Colonies established within Indian Country before and after contact, were left to inhabit the legal-geographical super-culture of Indian Country, as a unique people and mixed Creole Tribal population comprised wholly of Ethnic Indians; Indigenous Natives, Africans, and Sundry Moors (Spanish, Berber, African) and their descendants. Whether they desired it or not, all were relegated to life outside of U.S. Colonies from rejected or denied American citizenship, despite the presence of treaty stipulations calling for voluntary U.S. Citizenship or Naturalization (Adams-Onis Treaty, 1821). All of whom from Massachusetts to California and Canada's Great Slave Lake south to the southernmost point of Coahuila Mexico, were historically viewed as "Indian" or "Indian Negroes, "Half-Breeds," "Creoles," "Criollos," "Mustees" and a litany of other names used by Whites, but all self-identified by many names, such as Hassanimisco, Muscogees, Mikasuki, Alachuas, Mascogos, Biloxis, Chatah, Tuscaloosa, Chalaki , Caddohadocha, Santee, Chicora, Yamasee, Washita, Hopi Mishong, Peracu, Deve, Dene, Aoui and many more appellations, from the point of contact. All of whom were summarily removed alongside other Indian Tribes, from the ancestral areas newly coveted by Whites, to confined reservations at the end of the Trail of Tears, as a result of the 1830s Indian Removal Policy.
Galveston Juneteenth, served as the impetus needed for successful efforts to agitate for termination of slavery within Confederate Factions of the 5 Civilized Tribes at the end of the Trail of Tears, in Oklahoma Indian Territory. Confederates had been clashing with the factions of the Indian Nations remaining Loyal to the Union. So, three months later, on September 13, 1865 the 5 Civilized Tribes and affiliated Bands entered an historic agreement known as, the Treaty at Ft. Smith, causing an immediate cessation of the Civil War fought within the legal-geographical domain of Indian Country (Oklahoma Indian Territory). 9 months after Juneteenth (6 months after the Treaty at Ft. Smith), came the first of the Domestic Indian Treaties on March 21, 1866, performing the Humanitarian feat of freeing Ethnic African Ancestored Seminoles within Indian Territory. Following in succession came the Chickasaw-Choctaw Treaty (April 28), Creek Treaty (June 14) and the Cherokee Treaty, concluded July 19, 1866. Each Final Step gave rise to the culmination of what abolitionist William Lloyd Garrison referred to as, the "Genius of Universal Emancipation" or Freedom that serves to free us all.
More to the point, history demonstrates that Texas did not want to be in league with the Mexican Indian Negro State of Coahuila. You see, the Texas Revolution and the Texas Declaration of Independence, was all about the formal removal of Texas from Mexican rule for 2 reasons important to Black Indians:
because Mexico had abolished Slavery and
Mexico allowed the Black Indian State of Coahuila to remain an essential part of the Mexican Union.
White Texas Settlers were outraged at their connection to a Mexican Black Indian State. In fact, listed as a reason in the Texas Declaration of Independence, was the statement that Mexico "was in Union with the State of Coahuila" (Coahuila y Tejas) with the distant capital of Saltillo" The capital was later changed to Monclova. Slavery was outlawed in Mexico, and Texas being part of Mexico, meant that Texas Settlers were affected by the Mexican requirement that all persons moving into Texas, were to free all Slaves within six months of settling there (leading to a revolt among White Texans). The Governor of Coahuila y Tejas was induced into writing the President of Mexico to explain the importance of Slavery to Texas, and indeed received a temporary exemption from the rule.
Few modern people realize that Galveston Texas (Texas in general) began its rein as Indian Country, home to Karankawas, Coahuiltecans, Tonkawas, Wichitas, who are more recognizable as some of those affiliated Tribal Bands of Ethnic Aboriginal descendants participating in the Treaty at Ft. Smith.  A great many of the Former Texas Indians called Galveston, Waco, Las Moras Creek, Del Rio, Nueces, Uvalde, Ft. Clark, Brackettville, Cow Bayou, Taylor, Whitewright, Grimes County, Wichita Falls, Paris and other Texas places, their ancestral home.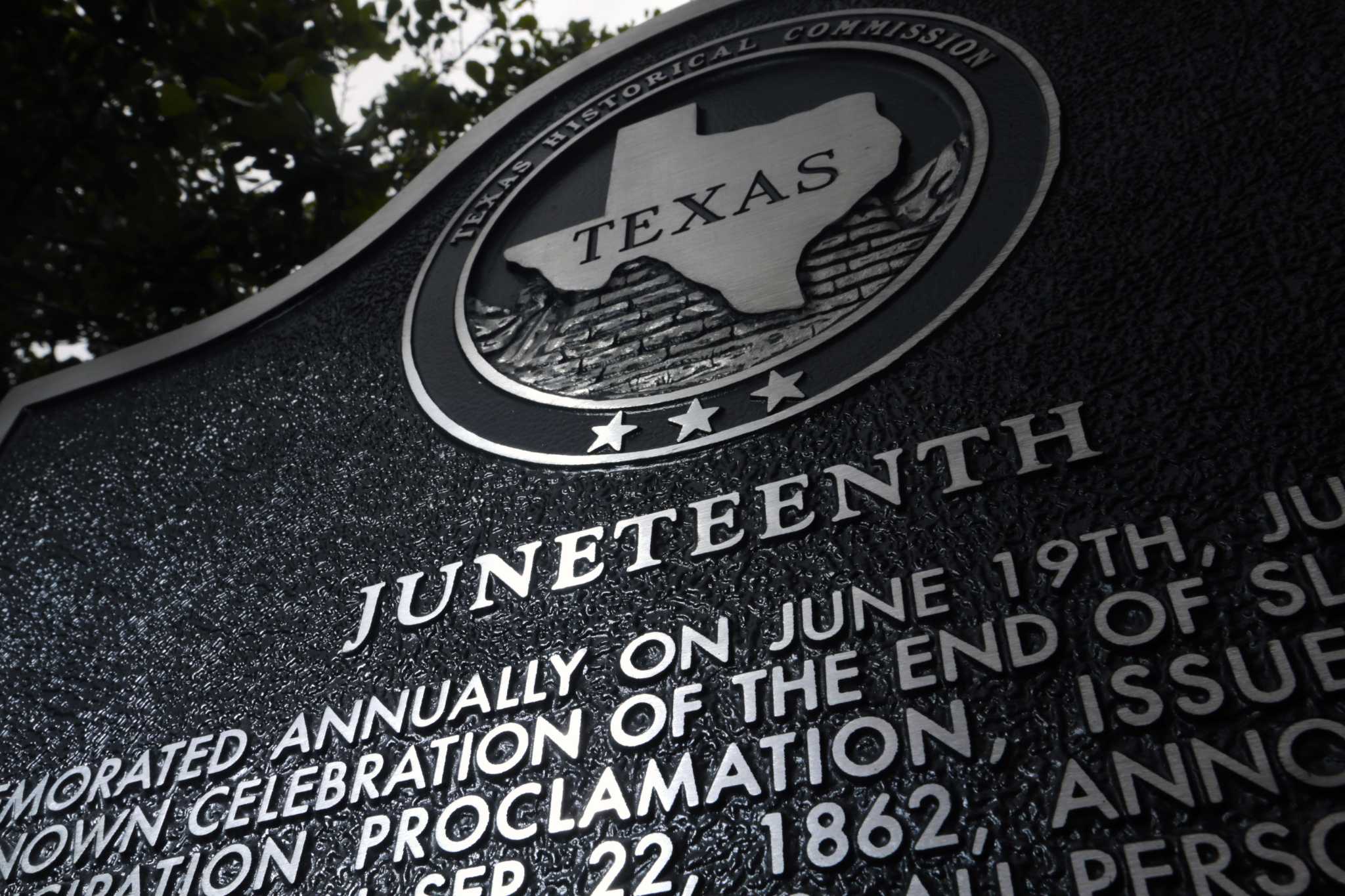 Juneteenth is of immense importance to our combined collective peoples. It serves as Commemoration of a Texas Event that demonstrated that the man-made borders could no longer be imposed to separate the free from the enslaved. It's concept weighed on the conscience of our Indian ancestors who dared to then say, set them free, so that we may all be free! May The Genius of Universal Emancipation and Enfranchisement be the hallmark of the future of America. On that day fateful day, June 19, 1865 Union Major General Gordon Granger read General Order #3 to the people of Galveston, Texas. General Order #3 stated; "The people of Texas are informed that, in accordance with a  proclamation from the Executive of the United States, all slaves are free. This involves an absolute equality of personal rights and rights of property between former masters and slaves, and the connection heretofore existing between them becomes that between employer and hired labor. The freedmen are advised to remain quietly at their present homes and work for wages."
Black Indians United Legal Defense and Education Fund, invite you to come visit the inspired exhibits and collections related to Ethnic Indians of the Americas, showcased by the Leona Mitchell Southern Heights Heritage Center and Museum at 616 Leona Mitchell Blvd in Enid, Oklahoma 73701, to get the rest of the story.
Hikia Tuscaloosa! Stand Up Black Warriors!
Support Ethnic Indian Sovereignty and the campaign to Nationalize Our Juneteenth Holiday!
Yakoke! Thank You!
Angela Molette
(Tuscaloosa Ohoyo) Black Warrior Woman